Questo articolo è stato scritto originariamente il 21 maggio 2010 e oggi – aprile 2016 – ripreso, rivisto e ampliato per la rivista online Adromeda.
Ho letto L'Uomo Verticale nel maggio del 2010. All'epoca ancora non conoscevo l'opera di Davide Longo, bravo e giovane scrittore che aveva già ottenuto un discreto successo col romanzo storico Un Mattino a Irgalem e con il giallo "bucolico" Il Mangiatore di Pietre.
La scoperta de L'uomo Verticale la devo invece a una tempestiva recensione pubblicata da Giuseppe Genna nel suo Blog.
A costo di sembrare banale, non posso esimermi anch'io dal far notare, come hanno fatto tutti i recensori di quest'opera, che il romanzo di Longo somiglia a una sorta di prequel italico di The Road, il celebre capolavoro apocalittico scritto da Cormac McCarthy. Anche ne L'Uomo Verticale il protagonista è un padre che cerca di proteggere i figli dalle insidie di un mondo post apocalittico in preda alla barbarie. Come in The Road non si forniscono informazioni precise su quale catastrofe o quale sconvolgimento politico, economico o sociale abbia fatto precipitare gli eventi, chi o che cosa abbiano condotto l'Italia a diventare una terra in preda alla violenza, alla disperazione e al degrado. Qualcosa tuttavia s'intuisce: ad esempio sono chiari i riferimenti – una vera e propria profezia, considerato l'anno di pubblicazione – a un qualche evento catastrofico accaduto tra le repubbliche caucasiche, evento che ha determinato un'incontrollata migrazione via terra delle popolazioni originarie di quei luoghi. Nel romanzo sono chiamati Gli Esterni, denominazione che ricorda il retorico e politicamente corretto Migranti, termine da pochi anni utilizzato al posto dell'evidentemente pericoloso Profughi. Insieme a questo tragico evento, assistiamo all'evolversi di una crisi economica che affonda le proprie radici nei giorni nostri e che sfocia in un totale tracollo della società occidentale: Internet e le comunicazioni telefoniche smettono di funzionare, mentre tv e radio prima riducono i programmi per poi interrompere del tutto le trasmissioni. È sospesa l'erogazione di energia elettrica e interrotta la distribuzione dei carburanti. Bancomat e sportelli bancari non erogano più denaro contante. Le forze di polizia e l'esercito confluiscono in un unico corpo denominato Guardia Nazionale, chiamato a presidiare l'ordine pubblico e i confini territoriali.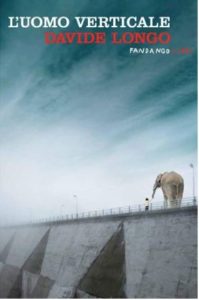 Il padre e protagonista della storia è uno scrittore di successo e docente universitario, una persona mite la cui esistenza è stata macchiata da uno scandalo sessuale che ha distrutto la sua famiglia e rovinato la carriera. Dopo alcuni anni passati in solitudine nel suo piccolo paese d'origine, Leonardo, antieroe per antonomasia, si troverà ad affrontare situazioni terribili. Ritroverà la figlia dalla quale si era allontanato anni prima e dovrà cercare di proteggere lei e il suo ambiguo fratellastro preadolescente dalle insidie di un lungo viaggio on the road. Accompagnati da un orfano scampato al massacro della propria famiglia, da un ragazzo autistico dotato di particolari sensibilità, e insieme a un piccolo cane meticcio e all'elefante ritratto nella bella copertina del libro, saranno costretti ad affrontare e subire situazioni di violenza estrema, in un'escalation continua che accompagnerà il lettore verso un finale poetico e commuovente. Mi vengono le lacrime agli occhi solo a pensarci.
La tecnica di scrittura usata da Longo è semplice, asciutta, a tratti pittorica. Frasi brevi e metafore sottili con descrizioni precise della natura e dei paesaggi, che riprendono termini ormai in disuso nel parlato comune.
Se La Strada di McCarthy è un capolavoro, e lo è, L'Uomo Verticale di Davide Longo è un piccolo/grande gioiello della narrativa italiana contemporanea. Se ne sono accorti anche all'estero, dove è stato tradotto un po' in tutte le lingue, e le recensioni che si possono leggere su goodreads.com sono per lo più entusiastiche. In Italia il successo mi sembra sia stato buono, anche se gli ambienti social prettamente fantascientifici sembrano averlo snobbato.
Concludo dicendo che per quanto mi riguarda, si tratta del romanzo scritto nella prima decade del ventunesimo secolo al quale sono più affezionato, e il suo ricordo ancora mi trasmette piacevoli emozioni. Aggiungo che la storia si presta bene a un adattamento cinematografico. Ci spero, ma ci credo poco.