Tag Archives: Temi Windows Mobile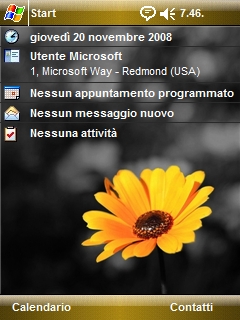 Titolo:
Fiore Giallo
Autore:
Chris Gin – Mytom
Descrizione:
Tema Fiore Giallo
Categoria:
natura
Approfittando di una promozione sul sito pocketland.it, Mytom ha installato sul proprio TYTN il celebre software Resco Explorer, uno dei programmi probabilmente più diffusi per la piattaforma Windows Mobile.
Resco Explorer aggiunge al sistema un potente file manager, caratterizzato dalla presenza di alcune interessanti feature, prima fra tutte la possibilità di cifrare i file, l'implementazione del drag and drop, l'add-in ftp e il plug-in per la schermata today, con i livelli di batteria, memoria e scheda.
Riportiamo di seguito un elenco completo delle caratteristiche, copiato di sana pianta da pocketland.it
1) crittografia di file
2) compressione ZIP
3) File Manager
4) viewer interno
5) browser di rete
6) editor di registro
7) Add-in FTP
8) crittografia
Caratteristiche
invio dei file tramite Bluetooth o infrarossi
formattazione di schede di memoria
modalità Drag'n'Drop
supporto HP Mobile Printing
ricerca di testo nei file modalità 'send to folder'
copia, sposta e cancella file e cartelle favorites
accesso veloce alle cartelle
compressione ZIP
viewer interno (testo, jpg, png, bmp, gif …)
editor di registro (import/export/search)
browser di rete (solo PPC 2002,2003)
associazione di file
crittografia
invio dei file al PC
Interessante è la possibilità di inserire alcune skin per il plug-in del today, che conferiscono al palmare un aspetto decisamente più simpatico.